Monday, March 11, 2019 / by Robert Woessner
Real Estate Market Update from February 2019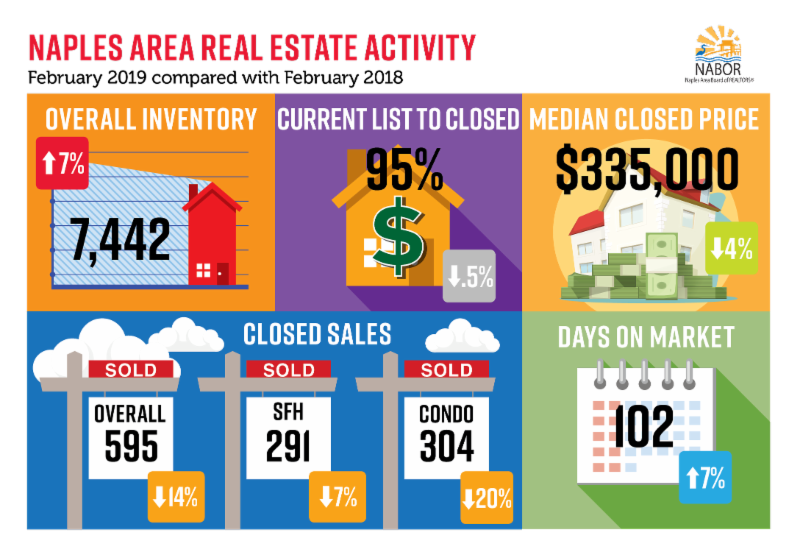 Home buyers had many more options to choose from in February as housing market inventory increased 7 percent to 7,442 homes in February 2019 compared to 6,912 in February 2018. In addition to 1,498 new listings added to the Southwest Florida MLS in February, the February 2019
Market Report released by the Naples Area Board of REALTORS® (NABOR®), which tracks home listings and sales within Collier County (excluding Marco Island)
, also reflected a 4 percent decrease in the overall median closed price to $335,000 in February 2019 compared to $350,000 in February 2018.

New listings increased 34 percent in the single-family home market and 7 percent in the condominium market [based on a comparison of February statistics]. That's a lot of great new options for buyers!"
The February Market Report showed inventory for each home type was about even in February with 3,801 single-family homes available (a 10 percent increase compared to February 2018) and 3,641 condominiums available (a 4 percent increase compared to February 2018).
While there were 100 fewer closed sales in February 2019 compared to closed sales in February 2018 (a 14 percent decrease), the added inventory means buyers are not rushing into a sale like many did when inventory levels were much lower; and instead, are meticulously evaluating all their options that include new and existing homes.
The average days on the market increased in February, which tells me that buyers are looking at more homes before they make an offer. Plus, there is a lot more new construction this year than a year ago. Agents were rarely in the office in February because showings really increased dramatically.
Unlike many Florida markets, sales of homes in Naples are very geographically influenced. Historically, the closer a property was to the beach, the faster it would sell. But that's not always the case anymore. Days on market were the lowest in the South Naples area (34112, 34113) in February; yet prices for single-family homes in this geographic area decreased 25 percent to $420,000 in February 2019 from $560,000 in February 2018.
Our statistics show that the closed prices of properties that were sold in February averaged 95 to 96 percent of the current list price. This shows that once a property is priced to attract buyers, the seller can realize a final closing price within 4 to 5 percent of asking price.
Many of the current listed properties are priced in excess of the range that is attracting buyers so sellers often have to reduce their asking price to the point where buyers are interested, looking and ready to make an offer. Pricing a home appropriately from the start helps the seller realize a much shorter marketing time and makes for a smoother transaction."
REALTORS® help buyers find the right homes at the right price in the right area faster because they understand how each geographic area and the neighborhoods within them are different. For example, closed sales of single-family homes near the beach decreased in February compared to a year ago while its median closed price increased; but closed sales of single-family homes increased in the South Naples area during February and its median closed price fell.
The NABOR® February 2019 Market Reports provide comparisons of single-family home and condominium sales (via the Southwest Florida MLS), price ranges, and geographic segmentation and includes an overall market summary. NABOR® sales statistics are presented in chart format, including these overall (single-family and condominium) findings: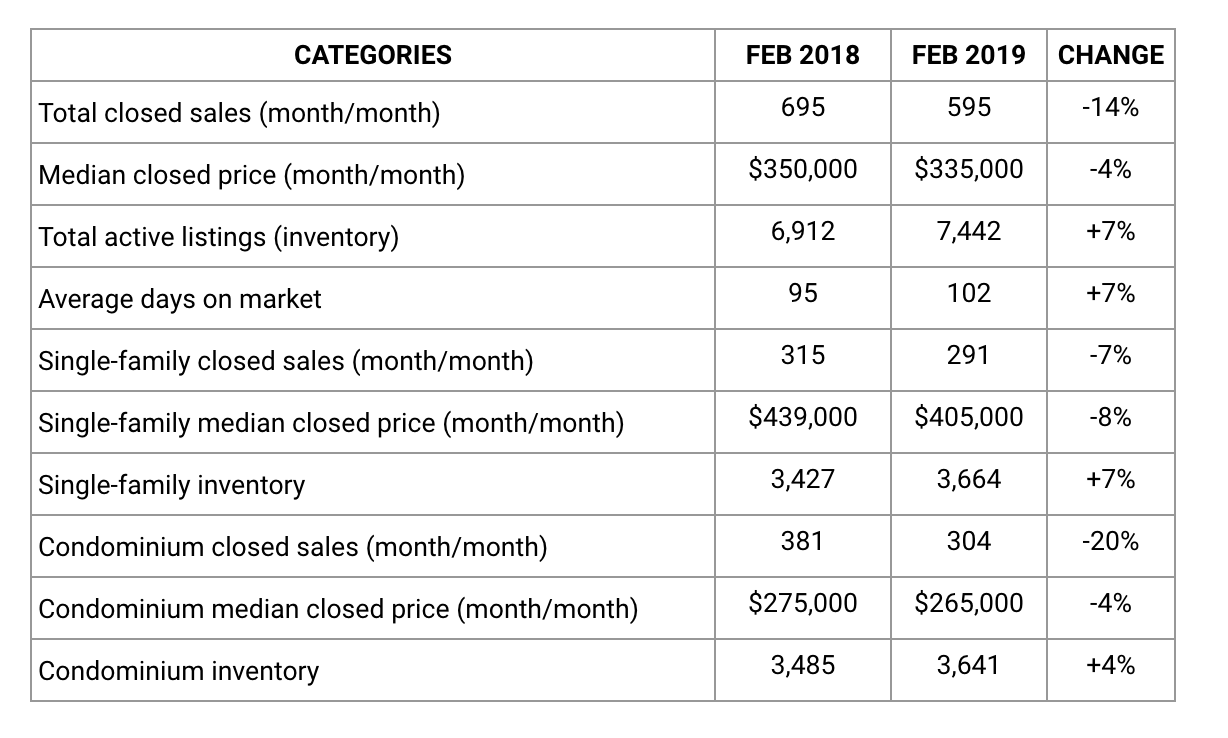 The high-end market continues to do very well in our area. those high-end sales are usually made by very astute buyers and if the economy was bad or on a path to becoming bad, then they wouldn't be buying as they are currently.
You can't look at our market with only one lens, a lot can change in a quarter mile. Sellers are best served when they work with a REALTOR®, whose job is to offer home buyers and sellers a good understanding of neighborhood market trends and comparative pricing strategies. This is very important during high season, and especially today, when buyers have more housing options.

Here is a link to the current real estate market conditions for Naples by Zip Code:
34110
34108
34103
34120
34119
How does this effect you?
If you are considering selling your home and buying something smaller or maybe something bigger, now maybe one of the best times to capitalize on great interest rates. Here is a link for an updated home value report: Home Valuation Report
If you are looking to buy should you wait? That's a great question. Will home values continue to go up 10% year over year? I don't think so. Will there be a huge drop like 2009, 2010 etc? I don't see that either. What I do see are interest rates low now that continue to go up that make it more and more difficult to buy the longer you wait.
Here is a list of all the homes currently for sale in Naples: Naples Homes for Sale


If you are looking to buy or sell a home in Naples, Contact me Today.
Robert Woessner, 239-330-4589, Robert.Woessner@KW.com
---