Friday, December 20, 2019 / by Robert Woessner
November Home Activity Shows Buyers were Trying to Beat the Pack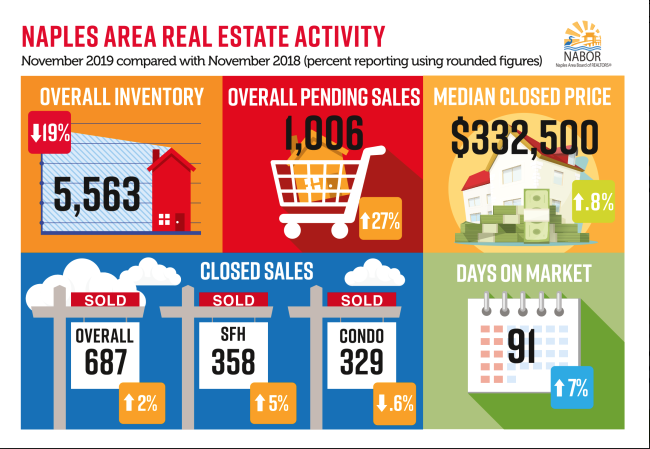 An increase in traffic on roads and beaches, and in restaurants, hotels, and open houses during November was reflected in a 27 percent increase in overall pending sales (homes under contract), and a 46 percent increase in showings for the month compared to November 2018. Several broker analysts who reviewed the November 2019 Market Report released by the Naples Area Board of REALTORS® (NABOR®), which tracks home listings and sales within Collier County (excluding Marco Island), said they saw a noticeable increase in buyer interest starting back in October. The presence of more eager buyers before our traditional high season has contributed to the depletion of inventory, which decreased 19.4 percent in November to 5,563 properties compared to 6,896 properties in November 2018.

We currently have a six-month supply of inventory. There were price reductions in 28 percent of all homes on the market in November. But, Six months of inventory offers Naples a great advantage when compared to other popular Florida areas like Tampa and Orlando, which currently average two to three months of inventory, as buyers have more options.

Get a Free Home Evaluation Here!!


Naples is not a major business center where demand is driven by significant employment gains, yet we continue to enjoy another solid year in real estate sales due to all the unique offerings which make Naples such as special destination to so many around the country.

Overall closed sales in November increased 2.4 percent, but it was the single-family home market that led the month's closed sales with a 5.3 percent increase compared to closed sales in the condominium market, which decreased 0.6 percent.

In response to slow sales in the condominium market, We've had such huge activity in the condominium market over the last three years, it was bound to slow down a bit. But despite closed sales of condominiums being tepid in November, the report showed pending sales in the condominium market were up 26 percent compared to an increase in pending sales in the single-family homes market of 28 percent. This substantial increase is a direct result of the early influx of buyers.


Inventory levels for the single-family and condominium markets were about even in November; with 2,771 properties and 2,792 properties, respectively. Inventory declines during November were highest in the low end of the single-family home market (under $300,000), which saw a 35.4 percent decline in November. But inventory increased 19.6 percent in the $2 million and above condominium market.

With overall inventory down and showings up, now is a great time to put your home on the market!!


Get a Free Home Evaluation Here

The NABOR® November 2019 Market Reports provide comparisons of single-family home and condominium sales (via the Southwest Florida MLS), price ranges, and geographic segmentation and includes an overall market summary. NABOR® sales statistics are presented in chart format, including these overall (single-family and condominium) findings:

Follow me on YouTube for Updates and Events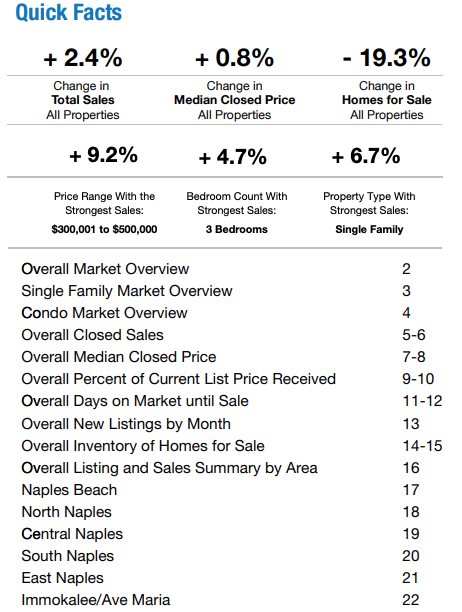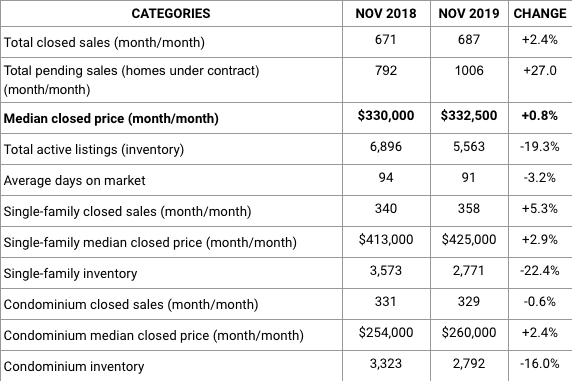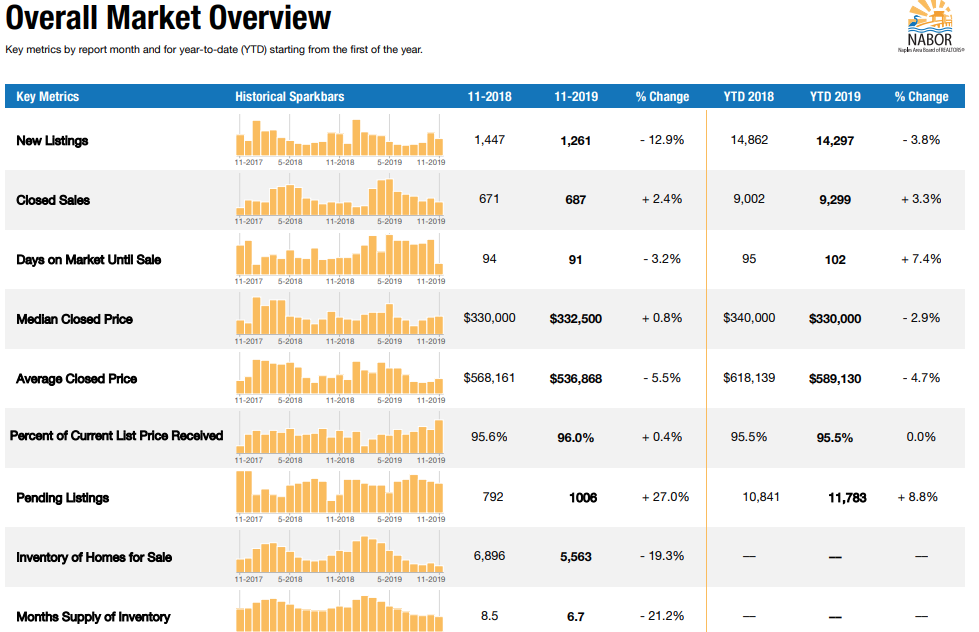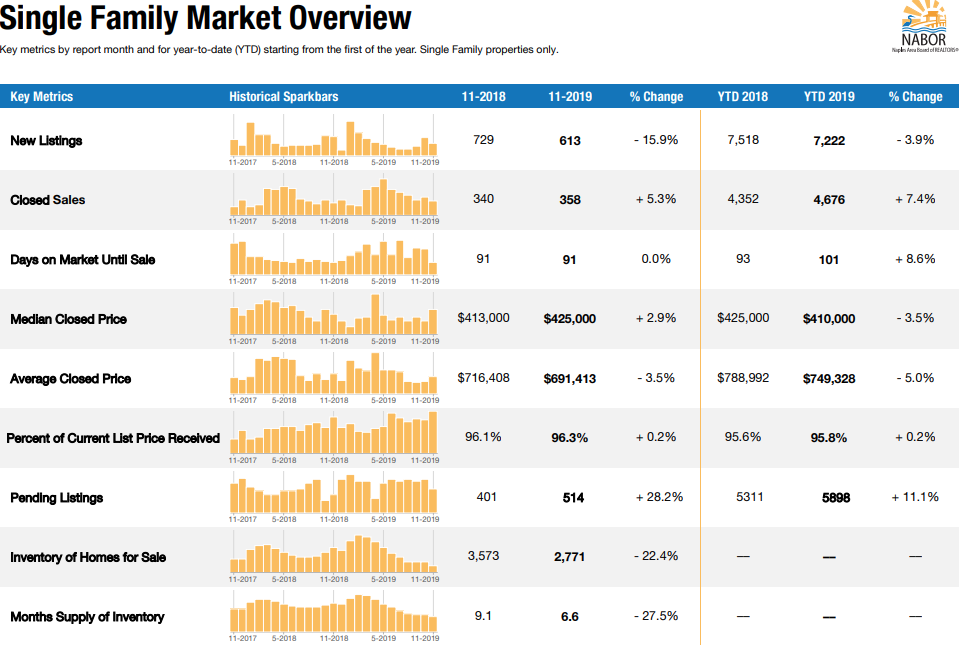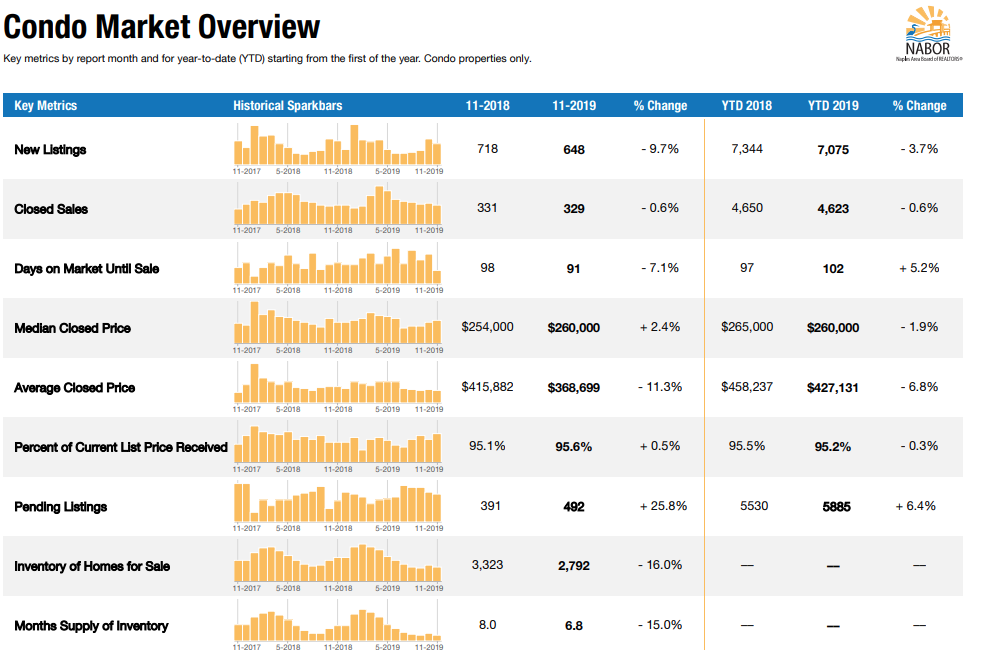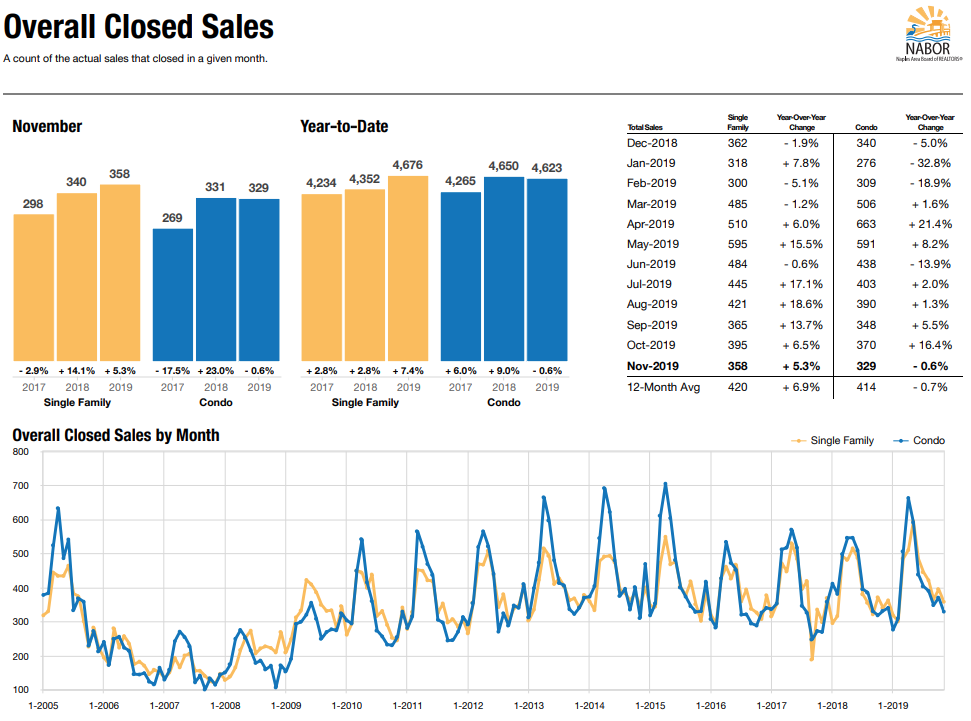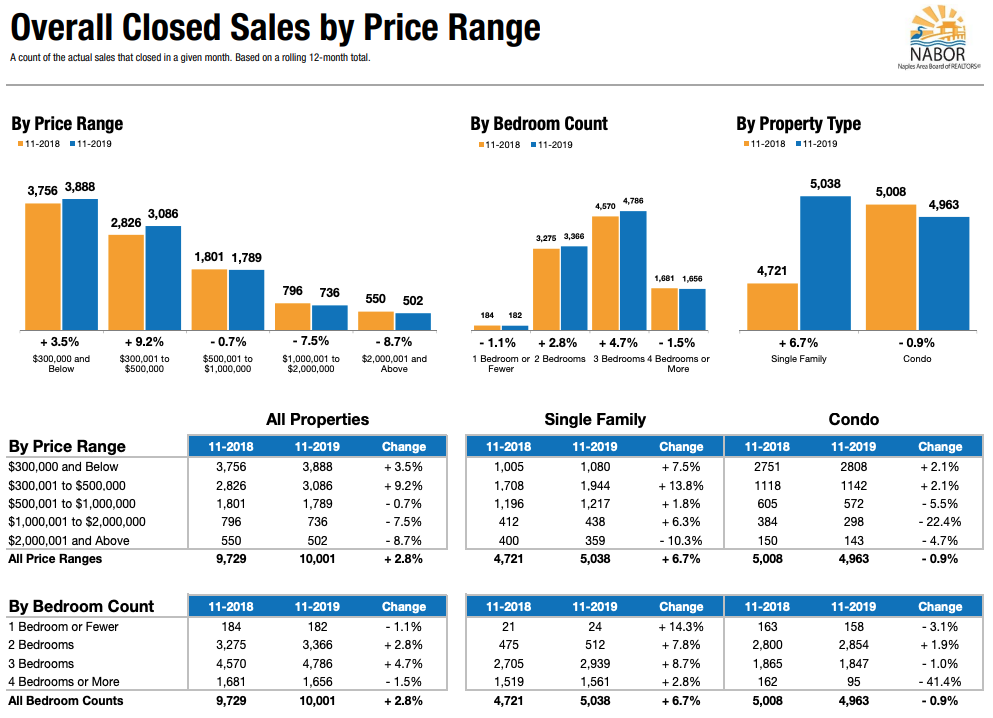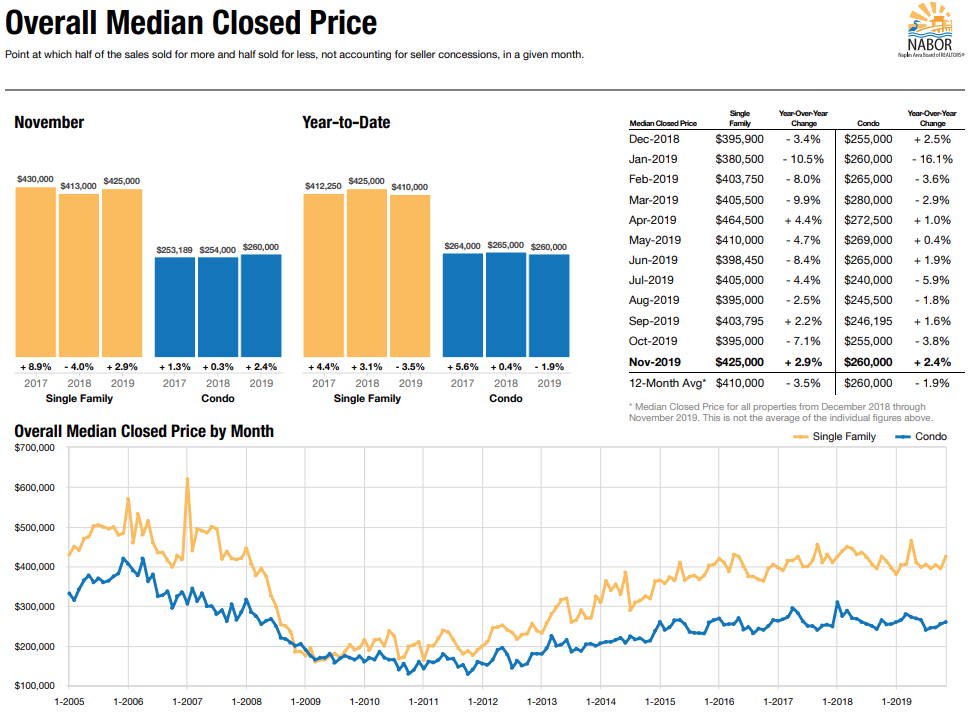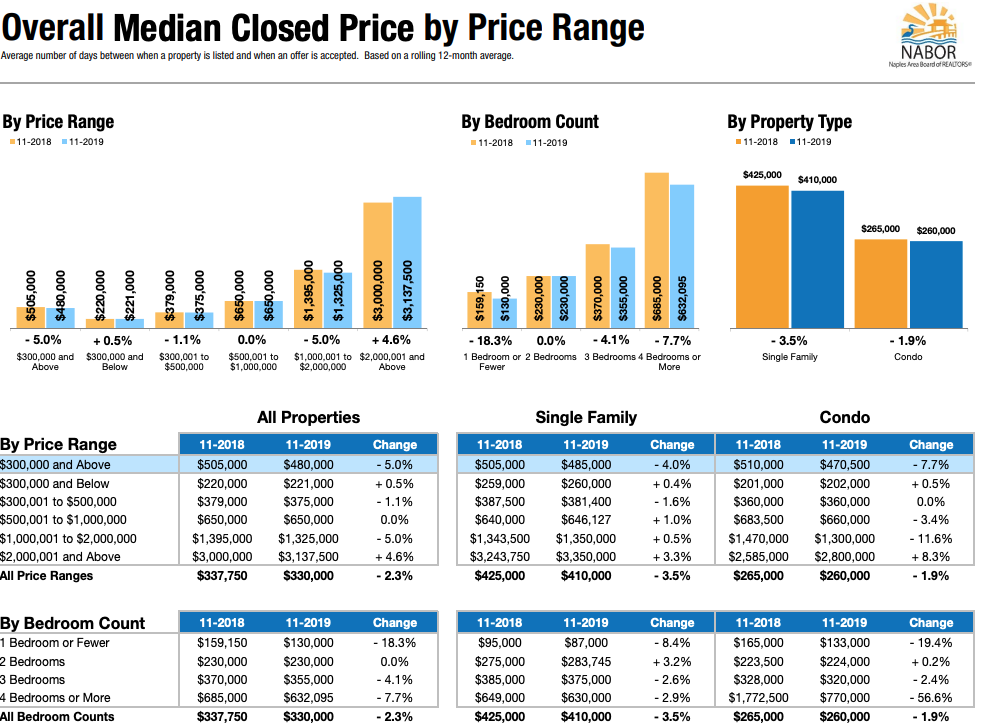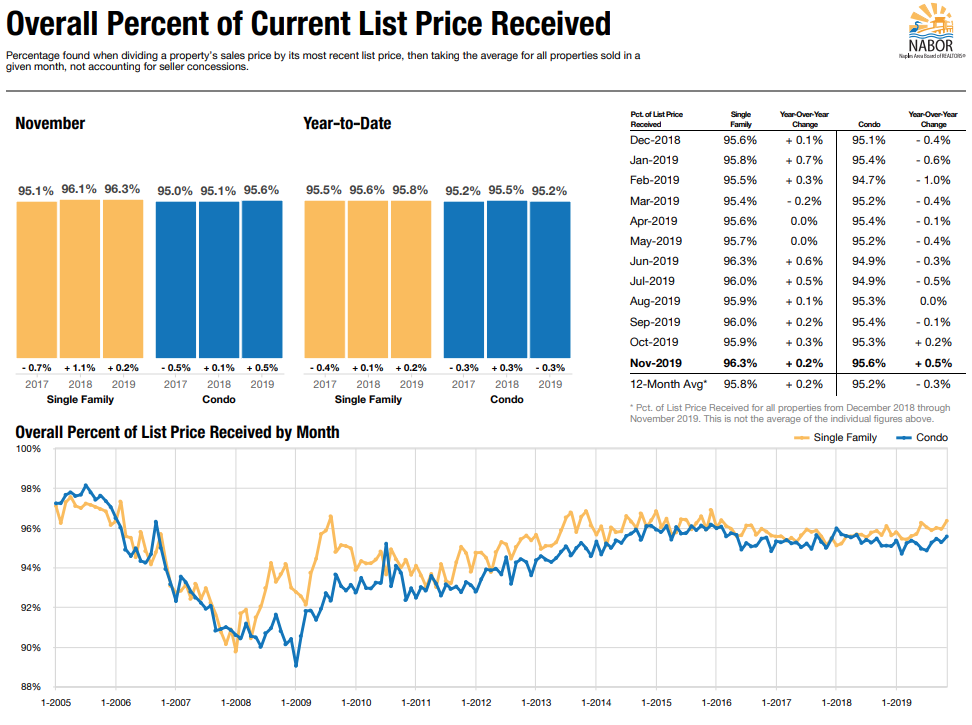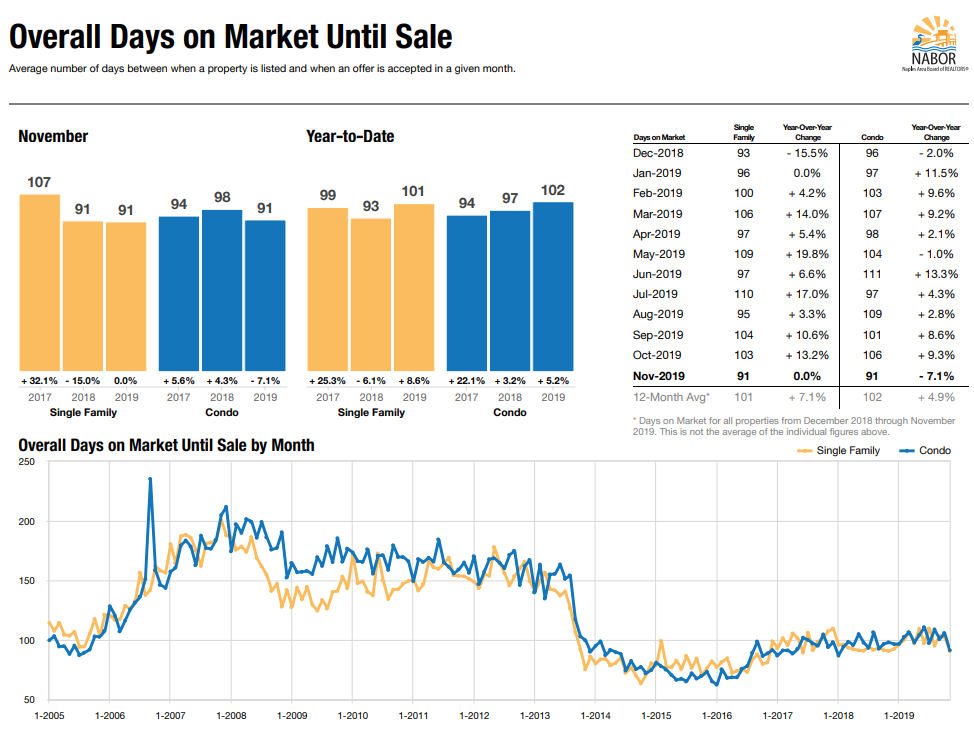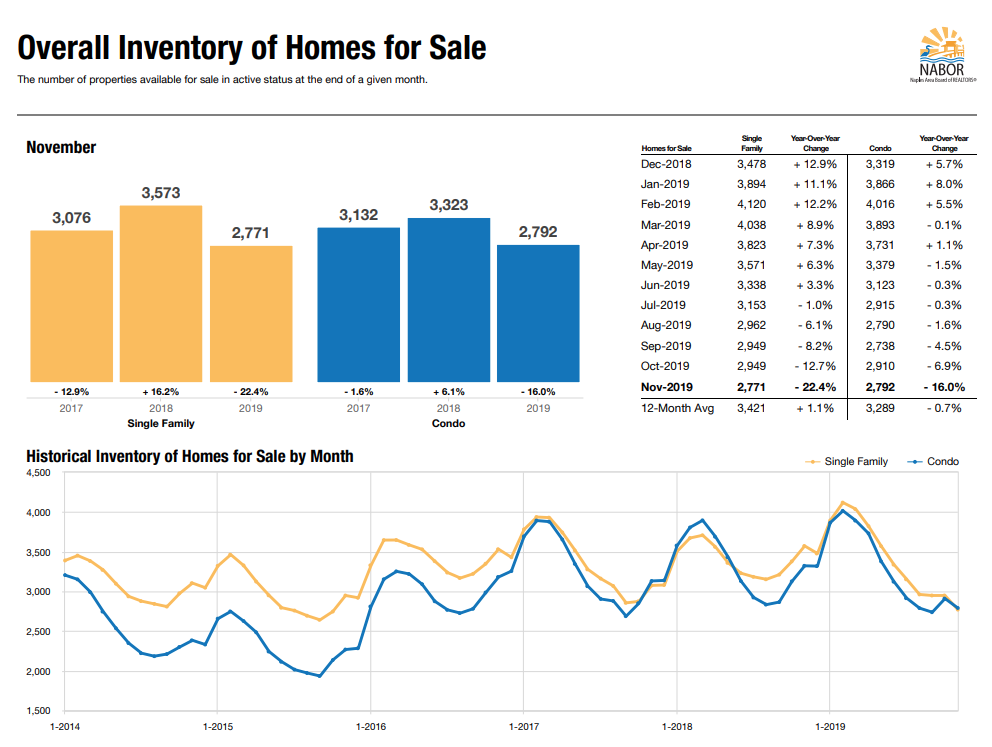 L E T ' S B E F R I E N D S !
B L O G ? https://robert.southfloridahousesearch.com/dashboard/blog
F A C E B O O K ? https://www.facebook.com/rwoes32/
L I N K E D I N? www.linkedin.com/in/robert-woessner-1a010b6a
If you haven't already done so, please tap the thumbs up button and subscribe now.
Download my mobile home search app and you can view properties anywhere in the United States and get up to minute information about your neighborhood.
Request a professional Market Analysis here:
https://robert.southfloridahousesearch.com/homevalue/homevaluation
To search homes with the most accurate data click here:
https://robert.southfloridahousesearch.com/
Here is a link to the current real estate market conditions for Naples Florida:
https://https://robert.southfloridahousesearch.com/reports/city/fl/naples
Looking for a real estate agent in your city? I have a network of top producing agents around the country. Email me and I can put you in contact with an agent in your area
Robert.Woessner@KW.com
Robert Woessner - Host, Realtor
239-330-4589
Robert.Woessner@KW.com
https://www.robert.southfloridahousesearch.com/
---